PAIN HAPPENS...SUFFERING IS YOUR CHOICE

A few days ago, Osas, one of our newest recruits at work was not looking his usual self. I was concerned and asked; he complained that he had suffered sleep deprivation because he had to massage his father every two hours! His father is suffering from Arthritis.
...SAD right?

#FACT!
If YOU are in pains, those taking care of YOU (care givers/family members) are also in pains...
The decision to remain in pain is YOURS TO MAKE...
THE CHOICE TO BRING SUFFERING TO YOUR FAMILY IS YOURS TOO...
Do you experience great pains and discomfort due to stubborn:
 neck pains? 
 shoulder pains? 
 wrist pains? 
 joint pains? 
 muscle pains? 
 low back pain? 
 headaches? 
 rheumatism? 
 bruises? 
 swellings? 
 And more?
No need to suffer any longer. To the rescue...



CHINESE TIGER BALM SPRAY
An effective muscle pain reliever for combating aching muscles and pains for those hard to reach areas. The easy application of this muscle pain reliever targets people on the move.
Tiger Balm Spray contains ingredients like Camphor, Methyl Salicylate and Menthol.
Quickly relieves pains from lumbar disc herniation, cervical sponylosis, waist muscle pains

Fast relief for Muscle aches, back pain, toenail fungus, common cold, shoulder and neck pain/stiff neck/neck spasm, congestion 

Fast relief of joint pains, rheumatoid athritis pain, stiff muscle/muscle strains and sprains 

Very Handy - It can be your travel companion. It can be used anywhere and anytime.




Very safe on all skin types 
Severe back pains from sitting too long at your desk, work station or even driving?



SUFFERING 

is your choice...
KICK OUT THE PAIN!
Get this very effective Spray for super fast relief NOW!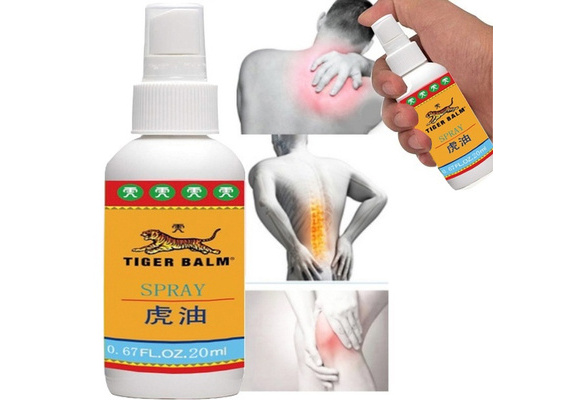 As an athlete, cramps on the verge of victory can get you thinking:

'village people have finally reasoned my matter'

Over 4,000,000 users of Tiger Balm Spray around the world cannot be wrong...
Don't make others suffer because you are in pains. Act now!



0
day
23
hours
57
minutes
4
seconds
Chinese Tiger Balm Sprays costs

N16,000.00

only. This does not include cost of delivery. 

 
Friends, Christmas came early!
BONUS #1

- For just N12,000.00 ONLY, you get one of this super hot BALM and kiss pains goodbye!...

that is a whooping 25% OFF!
BONUS #2 - Just fill the address in and we will deliver to you for FREE!
0
day
23
hours
57
minutes
4
seconds
DONT BE SELFISH...DONT SUFFER...DONT BE THE REASON YOUR FAMILY SUFFERS...BE KIND TO YOURSELF!



GET INSTANT RELIEF NOW!
[insert_shortcode_here]